Back to Business – Have Airlines Returned to Past Success?
It's no secret that during the Covid-19 pandemic, various industries suffered great difficulty in continuing operations during numerous lockdown periods across the globe. It was often the case that passengers were expected to produce negative Covid-19 tests, both pre and post flights. It was also expected for anyone wanting to fly internationally, or locally, to produce proof of vaccinations and the boosters thereafter. With masks also being mandatory on the majority of flights, there were more blockers flying than ever before.
This put tremendous strain on the airlines, with many having to declare bankruptcy and cease all operations. Thousands of workers were made redundant while the airline operators scrambled to scale down operations in the midst of the global pandemic. Stories of 5-hour waits at airports due to staff shortages and flight cancellations certainly plagued the news.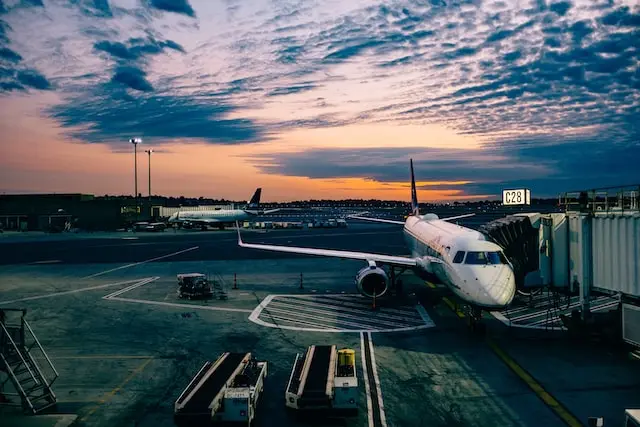 Photo by Ashim D'Silva on unsplash
The race to return to normality rages on
During the height of the pandemic, the number of active flights dropped over 90% for many airlines and whilst many restrictions have been ceased, the number of flights are still a third of what they were pre-covid. During the unprecedented mass cancellations, airlines were forced to replace travellers' tickets with vouchers of the same value or thereabouts, this was yet another setback for airlines who were already in hot water, all but confirming that even once normality resumes, the race of returning to profits would take much longer than originally anticipated.
The Irish Times confirmed that around €300M worth of flight vouchers were yet to be claimed, around half the total given out by Aer Lingus during the covid crisis. This is the case for almost all airline providers that had emerged scot-free from the lengthy time away from the runways. It's safe to say that the market has returned to their profitable state and airports are becoming packed to the rim once more.
There's been numerous cases over the last year whereby large airline providers have been taken to court over failing to provide refunds and instead providing the aforementioned flight vouchers. Whilst customers should be able to get refunds for their flights cancelled or halted, knowing almost 90% of airlines had to reduce staff, spending and operations to keep afloat, it's no surprise operators were attempting to reduce the expenditure in some way.
On the road to recovery
For many airline providers, the extensive break away from operations has allowed for some innovating and reflection in the way they operate. First, what's simple to outline is that there's ample room for a strategic realignment. Flying routes will naturally be amended to suit the wants of the everyday traveller, whether flying for business needs, or a personal getaway.
This also allows for airlines to increase their own technology, producing innovation which prevents contact between workers and travellers alike. A touch-free check-in, or streamlining the way people travel through the airport, multiple entrances, completely preventing contact between millions in the space of hours. Technology became even more popular during the pandemic, with millions flocking to purchase crypto, gaming technology, and playing on casinos.
The Covid-19 pandemic sure did force a relationship between the central authorities worldwide and airlines, which can be considered as another positive to come from the ordeal. The alignment of these bodies can ensure for a much smoother process of action should another pandemic-like event occur, meaning that the outcome or resolution can be found and communicated much sooner.
After the pandemic, with an extraordinarily less number of active flying routes, paired with a supply shortage worldwide, allowed for airlines to look into other ventures of profit. One of which is providing cargo services worldwide. In the UK, for example, the supply of goods such as fresh produce has reduced significantly. Increasing the number of cargo routes will both increase the profits for airlines, which are much needed since their absence, but also provide vital imports for countries worldwide.
There was a long period where the future of thousands of vital airlines were in serious jeopardy, worrying governments worldwide, knowing these were vital to almost every country's economy. The recovery has certainly been a tough and tantalising path, luckily, there's bright signs of there being light at the end of the tunnel restoring a lot of confidence in both passengers and operators.
The pandemic showed many signs of repeating the same trends, with infections increasing exponentially throughout the winter periods. The winter of 2022 heading into 2023 was the best in terms of these statistics and has given some great projections for airlines to get well and truly back underway once again and its' paired with many factors allowing for seamless innovation to return to the former glory of flying the skies.